super dica de Jane Chiesse: http://www.quemtemmedo.blogger.com.br/

Daniel Piršč, designer de peças de porcelana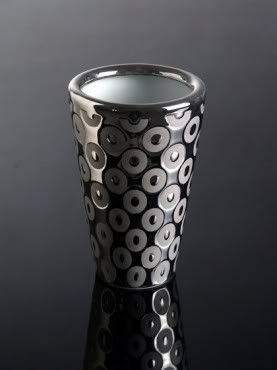 tradução via Google Translator (sempre muito confusa...) >> http://translate.google.com/translate?prev=hp&hl=pt-BR&js=n&u=http%3A%2F%2Fwww.art-antiques.cz%2Fcatalogue%2Fauthors%2F233-daniel-pirsc%2F&sl=en&tl=pt&history_state0




Already during his student years, Daniel Piršč (born 1966 in Ostrava) gained practical experience in the foremost porcelain factories in Dubí, Duchcov, Lesov, Březová and Loučky.




Piršč gives precedence to simple, pure forms that are pleasing to the eye. His objects are in perfect proportion that corresponds both internally, within the individual outlines, and more generally, in terms of the purpose and environment for which the design is intended.




Rounded shapes prevail over sharp edges. The basic form is often distinguished by a witty detail, such as the use of the openwork lace motif adorning the surface of the large "Filigree" vase, which was awarded the prestigious prize Czech 100 Design Icons.




Monochrome white porcelain with a glossy finish is a material popular with Piršč, as it underscores the objects' perfection and purity of shape.




Such are his dinnerwares and dining accessories, including his "Torpedo" stopper, "Mine" – a heat-conserving egg-holder in the form of a naval mine, "Maryša" coffee set, etc.




Apart from his white-glaze wares, Piršč makes ample use of platinum and chrome finishes. Frequently, his products come in two versions: glossy white porcelain, and highly reflective chrome and platinum that lend the same objects a metaphysical radiance.




In addition to the perfect shape, the viewer will appreciate the geometric play of reflections and deformations of the space the object is placed in. The rounded outlines further enhance the futuristic reflectivity of the metallic materials that appears to "melt" the volumes of the objects right before our eyes, as in the case of the "Kuchajda" set of table accessories.




Piršč's "3D Wallpaper" is no doubt one of the designer's most outstanding recent creations. His method of producing "wallpaper" by way of attaching a great many small plastic objects directly to the surface of an interior wall is truly revolutionary.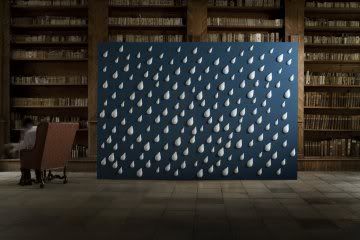 For example, "Rain" is a 3D Wallpaper, whereby the designer covered a blue wall with dozens of porcelain drops that give the impression of "a rain wall". The texture of the "Cross" 3D Wallpaper was achieved by applying a large number of regularly-distributed gilt metallic crosses.
It goes without saying that the plasticity of the objects, whose numbers and sophisticated distribution achieve a highly impressive interior decoration, by far surpasses ordinary wallpaper, although the method of repetitive texture is the same.




fonte e mais fotos:
http://www.art-antiques.cz/catalogue/authors/233-daniel-pirsc/
catálogo:
http://www.pirsc.cz/